Commercial kitchen cleaning is an essential ingredient for all Australian food businesses in order to comply with the industry's stringent food safety practices and standards so they can maintain the highest levels of hygiene. As grease and dirt from food naturally build up over time over surfaces and equipment, regular cleaning can ensure hygiene and continued efficiency in the kitchen. 
Why is commercial kitchen cleaning so important?
A clean and well-maintained kitchen is a reflection of the overall cleanliness and professionalism of your business. With everything so easily available online today, it is easy for customers to see which food businesses have breached food safety standards. In NSW particularly, food businesses want to ensure they comply with high hygiene standards to avoid paying fines and the embarrassment of being named (and shamed) on the NSW Food Authority website, which can hurt their reputation and business. 
On the other hand, a clean and well-organised kitchen conveys a positive image of your business and your commitment to the health and safety of employees and diners, which promotes confidence and encourages more customers to try your business out.
What is involved in commercial kitchen cleaning?
Commercial kitchen cleaning typically involves a thorough cleaning of all surfaces and areas in a commercial kitchen to ensure cleanliness and compliance with health and safety regulations. This can include grease and grime removal, floor cleaning, wall cleaning, sanitisation of all surfaces, detailed cleaning of fixtures, window cleaning and more.
Floor cleaning is the most run-of-the-mill inclusion in a commercial kitchen clean, involving sweeping, mopping, and scrubbing the floors to remove dirt, grease, and stains. It also involves paying attention to hard-to-reach areas, including walls and ceilings to remove dirt and grease.
Depending on the scope, commercial kitchen cleaning may also involve cleaning exhaust hoods, ducts, fans, and filters to remove grease, dirt, and other debris. It may also include sanitising surfaces and equipment using approved agents to kill bacteria, viruses, and other pathogens.
For more detailed cleaning, fixtures such as lights, switches, knobs, handles and shelves can also be included.
How often should you clean your commercial kitchen?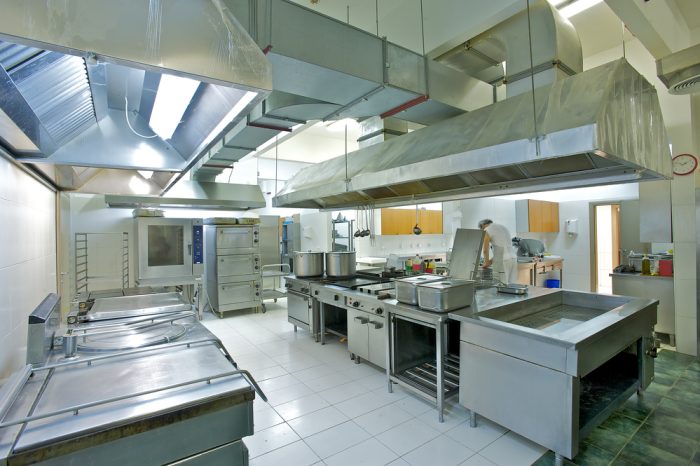 Certain tasks should be performed daily, including cleaning and sanitising food preparation surfaces and equipment that come into contact with food. Floors in high-traffic areas should ideally be cleaned daily and all spills removed promptly to avoid slip and fall accidents.
Typically, you'd want to deep clean your kitchen at least once a week if not more to ensure the highest standards of health and hygiene are maintained. This includes deep cleaning of floors, walls, and ceilings, as well as detailed cleaning of hard-to-reach areas, such as vents, light fixtures, and drains. Your food business is also better prepared to handle any surprise inspections this way. 
Depending on your cooking needs, periodic intensive cleaning may also be a good idea to remove the build-up of dirt, grease and grime.
Why hire a commercial kitchen cleaner?
Professional commercial cleaners in Sydney who can provide commercial kitchen cleaning services can make the whole experience more seamless. Here are some of the reasons it may make more sense to hire a commercial kitchen cleaner. 
Trained and experienced
Commercial cleaners specialising in commercial kitchens have experienced professionals who are knowledgeable about various cleaning techniques, products and procedures. With stringent cleaning and sanitising guidelines for food businesses, it can be challenging for someone without the right know-how to do the job. Commercial cleaners are more equipped to handle hard-to-reach areas and can deliver top results that meet food industry codes and regulations.
Customised cleaning
No two food businesses are the same – in layout or in operation. Customised cleaning plans tailored to the specific needs of your commercial kitchen can be implemented to ensure they align with your requirements and budget. The commercial cleaner will appoint a team, with proper planning and execution, to expedite the job and achieve a top-notch result in a short space of time.
Professional grade equipment and supplies
Commercial cleaners will have the proper tools, equipment, experience and knowledge to do the job properly to meet tough industry regulations. Many commercial cleaning companies are using more and more green cleaning methods and products, thus reducing the risk of dangerous chemicals contaminating food, equipment and the waste-handling chain. This makes the whole cleaning process quicker and more efficient, leading to a higher level of hygiene. 
Flexible schedules
One of the big things about running a food business is flexibility. A commercial cleaner can usually work around your schedule to minimise any disruptions to your operations. They are also aware of the safety regulations and guidelines and follow industry-specific checklists to clean and maintain your commercial kitchen. 
Cost-effective
Almost every food business needs to consider whether it is sensible to hire an in-house cleaner, use existing staff or choose a professional cleaning service. Being people-intensive in a competitive Sydney market can sometimes prove to be a money drainer. While there is a cost to hire a commercial cleaner, it can often be cost-effective in the long run.
What areas can a commercial cleaner cover?
Commercial cleaners typically have access to more equipment and products and can cover more areas of a commercial kitchen. Some of these include:
Common touchpoints
Most common touch points include flushes, taps, lights, hand dryers and soap dispensers. They can harbour a tremendous amount of bacteria due to the sheer frequency of use.
Space between walls and equipment
These large areas often require more than one person just to move equipment to gain access, plus the cleaning tools needed for a proper clean aren't normally part of an in-house inventory.
Underneath appliances
A massive job, calling for the movement of certain appliances, which can be outside the scope for a regular kitchen employee.
Ventilation systems
Ventilation systems and exhaust fans also need cleaning. If the scope calls for it (may be an additional cost), many commercial kitchen cleaners are equipped to provide top-level service to keep these clean.
In summary
Keeping your commercial kitchen clean is essential to maintaining a safe and healthy environment. A clean kitchen reduces the risk of foodborne illnesses and ensures that employees and customers are not exposed to harmful bacteria, mould, or other contaminants.
If you need kitchen cleaning, contact a professional commercial cleaning company such as MSR Services and let's discuss your next project.