Commercial and industrial cleaning are two different cleaning services that cater to different needs. Whether you're a business owner looking to decide what service to hire or simply want to understand the differences, this article will discuss the differences in commercial and industrial cleaning.
What is commercial cleaning and industrial cleaning?
Commercial cleaning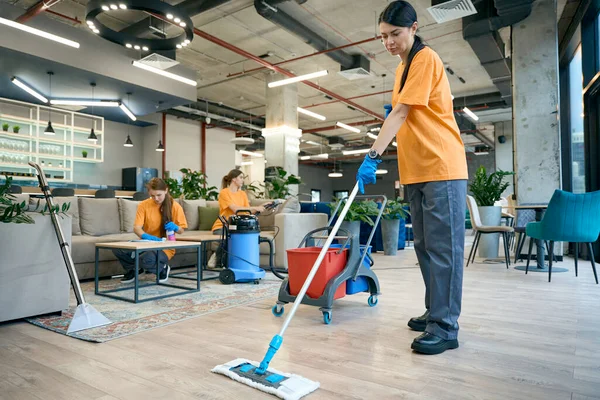 Commercial cleaning typically involves retail stores, restaurants, and office cleaning in Sydney. Other commercial spaces may include hospitals, hotels, strata properties and other hospitality venues. Commercial cleaning generally involves standard cleaning methods such as dusting, vacuuming, mopping, and disinfecting surfaces.
Industrial cleaning
Industrial cleaning, on the other hand, involves the cleaning of factories, manufacturing plants, warehouses, and other heavy industrial spaces. This may involve cleaning heavy machinery, handling hazardous materials and using specialised cleaning techniques such as high-pressure washing, steam cleaning, and chemical cleaning.
While commercial and industrial cleaning services differ in their focus and requirements, there can be some overlap. As an example, larger commercial facilities may have areas that require industrial cleaning techniques and equipment. Similarly, industrial facilities may have office spaces that require standard cleaning services.
What are the cleaning methods and techniques used?
Once you understand what is commercial cleaning and industrial cleaning, you'll have a better understanding of what you may need for your business.
Commercial cleaning is relatively straightforward and requires the use of standard, commercial-grade cleaning equipment such as vacuums, mops, dusters and cleaning solutions. There is no training involved and the use of PPE may be optional not enforced in some cases.
Industrial cleaning is more specialised because of the unique and complex nature of industrial environments, especially in instances where hazardous materials or chemicals are involved. This may include the use of industrial-grade cleaning solvents, PPE, specialised cleaning machinery, removing industrial waste, machine cleaning and more.
As an example, industrial operations can create spills and stains from chemicals and other materials. Stain cleaning may require specialised cleaning agents to ensure removal without damaging any surface. Similarly, industrial machines may require periodic cleans to ensure there is minimal risk of contamination while running smoothly. This will require specialised knowledge of how the machine operates, its cycles and the protocols for maintaining it.
What are the safety considerations?
Generally speaking, commercial cleaning requires standard safety protocols. Masks and gloves are encouraged to protect cleaners from the effects of cleaning chemicals. But there are no major restrictions on how they do the job.
In the case of industrial cleaning, cleaners must have sufficient knowledge of industry guidelines. For example, if they are cleaning factories dealing with hazardous chemicals, sufficient knowledge of the guidelines indicated in Chapter 7 of the Work Health and Safety Regulation 2017 Act related to handling and storage of hazardous chemicals. Industrial cleaners should also receive proper training in the safe operation of cleaning equipment such as pressure washers, floor buffers and other tools, and must understand the protocols demanded by that specific industry.
Both industrial and commercial cleaners should ideally have OH&S certification to ensure they understand their responsibilities in maintaining a healthy and safe environment.
Industrial cleaners may also have to follow additional protocols defined by Safe Work Australia and OSHA for enhanced safety. As an example, Safe Work Australia has an information sheet on managing exposure to solvents in the workplace, providing advice on managing these risks more effectively. This advice is relevant to both the business and any cleaners associated with it.
How frequently do you clean commercial vs industrial spaces?
This varies based on the industry and protocols involved. In the case of both commercial and industrial businesses, cleaning may be needed daily or weekly depending on the specific protocols and nature of work. 
For commercial spaces such as offices and retail stores, cleaning may be needed daily or several times a week. For restaurants, cleaning is more frequent, usually after every shift or service. For hotels, cleaning may be needed in common spaces and rooms on a daily basis or even several times a day. Healthcare facilities are much stricter and may need cleaning multiple times a day to maintain hygienic conditions. Strata cleaning in Sydney may require weekly or several times-a-week frequencies. 
For industrial spaces, such as manufacturing plans and labs, cleaning protocols may be crucial to prevent cross-contamination. Typically in these cases, cleaning is required daily and weekly as part of routine maintenance. Deeper cleaning protocols may be required during planned shutdowns. Warehouses may require weekly or several times-a-week cleaning. Clean-up for construction sites may often be required during different stages to keep the site clean and remove dust and debris.
​​Frequencies can vary based on the nature of the industry, size of the space, amount of foot traffic and any regulations around cleaning. It may be a good idea to talk to a professional commercial or industrial cleaner fore the most accurate information about what you need.
How much does commercial and industrial cleaning cost?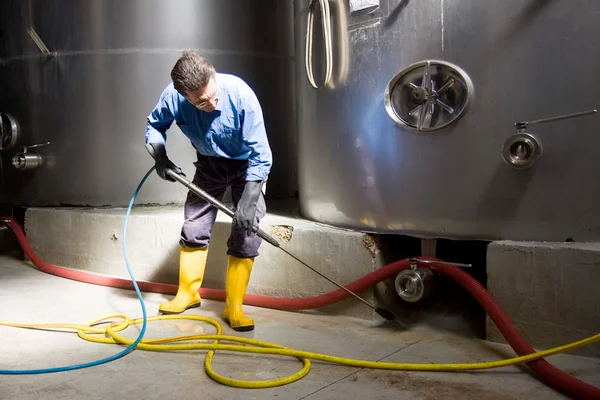 The cost of commercial cleaning and industrial cleaning will vary based on the needs of your organisation. Cost influencers include the city, size, frequency of cleaning, industry protocols, travel time, need for specialised equipment and training and more.
For example, prices for commercial cleaning in Sydney can end up being more expensive than similar services in other parts of Australia. Industrial cleaning jobs may take longer and will likely be charged at a higher rate than standard commercial cleaning jobs.
Another factor that can influence cost is the type of job. So, if you decide to go a contract or employ the cleaner for regular hours for a specified period, you may be able to get a better price, which can benefit your business in the long run.
How to choose the right cleaner for your business?
Choosing the right cleaner for your commercial or industrial business depends on your industry, their experience and the costs involved. An experienced cleaner will ensure your business is clean, hygienic and maintains all industry standards as required, while keeping your employees and customers safe and happy.
MSR Services is an experienced cleaner in Sydney, capable of delivering a range of services such as commercial cleaning, office cleaning, industrial cleaning, hospital cleaning, childcare cleaning, strata cleaning and more. We have serviced hundreds of businesses throughout the city and assure you of a high standard of service, whether you need a commercial or industrial clean. All our clients are 100% satisfied with our work and we'll ensure the same if you choose to work with us.