When it comes to keeping your commercial property clean and tidy, it's important to know how much you can expect to pay for professional cleaning services. Obviously, every property is different, so there's no way to provide a simple answer to this question. In this article, we'll try to give you some ways to estimate your commercial cleaning costs, and what factors increase or decrease the cost. We'll also explain how the quotation process works.
Want to estimate how much it will cost to clean your property? Here's where you can start:
Divide your overall floor area by 500. On average, a commercial cleaner can cover 400-600 square meters per hour.
Multiply this by 55. The average charge-out rate for a commercial cleaner is $55 per hour
Multiply this by 52. Most buildings need to be cleaned at least once per week
The number you've calculated is the minimum you can expect for your yearly commercial cleaning cost. It'll be more than this if you have bathrooms, kitchens or other public areas that need daily cleaning, or have a property that takes longer than normal to clean, such as a factory or a medical facility
The cost to provide commercial cleaning services depends on the size of the property, the frequency of cleaning, the type of property, and the supplies and equipment required.
Commercial Cleaning Rates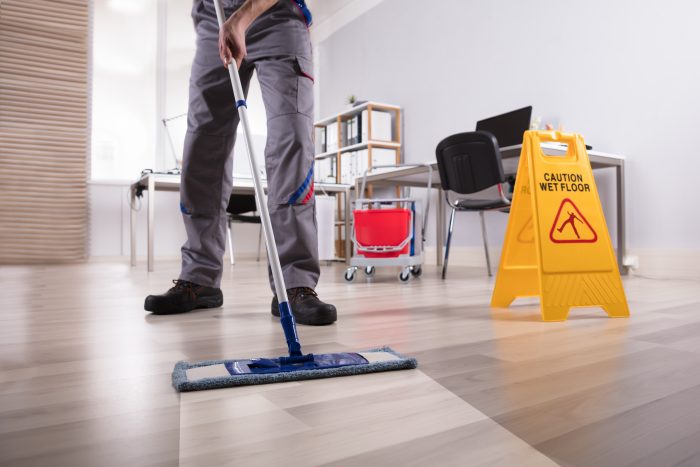 Often clients will try to compare cleaning companies by their hourly rate, sometimes called their "charge-out rate" or "contract rate". The charge-out rate that commercial cleaning companies advertise varies significantly. In general, the average hourly rate that commercial cleaning companies charge is usually $45-$65 per hour. We've seen some companies advertise rates as low as $27 an hour, which usually means they're underpaying their staff.
We'll go through the various costs involved in providing cleaning services to show where the $45-$65 per hour rate comes from.
Let's start with how much a commercial cleaning company has to pay its cleaners. This isn't what you, a client would pay, this is how much the company is paying its staff. As you'll see, the cost adds up very quickly.
Minimum wage
The minimum wage that a cleaning company pays their cleaners under the cleaning services award is between $20 and $30 an hour, depending on their age and whether they are full time, part time or casuals.
Leave
Although the full-time and part-time minimum hourly for a cleaner is less than the casual wage, a cleaning company will need to allow for annual leave, leave loading, sick/carers leave and compassionate leave, which can easily bring the effective cost of permanent staff up to that of casual staff.
Super, Insurance and Tax
On top of staff wages is superannuation, workers' compensation insurance, public liability insurance, and payroll tax.
Consumables
Cleaning requires consumables such as chemicals, wipes, PPE, garbage bags and so on. The cost of these is sometimes rolled into the hourly rate, or it is added as a separate cost for a cleaning contract.
Total costs
When you add up the costs of just employing a cleaner and supplying them, you can see how the cost to the provider can get close to $40 per hour. We haven't even considered travel costs, supervision, penalty rates, business overheads or profit margin. This is why the chargeout rate for commercial cleaners is usually $45-$65 an hour.
Contracts that require consistent, high-volume cleaning during business hours through the working week, with limited wet-area cleaning generally result in lower cleaning rates per hour.
Sporadic or once-off cleaning work, or jobs that require after-hours, weekend or public holiday work, will attract far higher hourly rates.
Factors that influence cleaning costs
Property Size
The bigger your property is, the longer it will probably take, and the more it will usually cost to clean. For large properties, we work on one cleaner being able to clean 400-600 square meters per hour. However, for very small properties, this doesn't hold up – travel, parking and set-up mean that even the smallest commercial office takes an hour to clean at a minimum.
Type of property
Different types of properties can take longer to clean than others, or require more regular cleaning.
Commercial offices – these are the bread and butter for commercial office cleaning companies in Sydney, they're usually the least intensive to clean, and often only need to be cleaned once per week.
Strata cleaning – common property like shared hallways, entrances, bathrooms and elevators can get dirty quickly due to the high foot traffic. Strata cleaning is usually required weekly at a minimum, but more likely several times per week or even daily.
Industrial buildings – due to faster build-up of dust, grease and other materials, industrial premises often require more regular cleaning, such as daily or weekly
Shopping centres – with the high volume of customers, public bathrooms and general foot traffic, shopping centres need to be cleaned daily or even several times per day.
Warehouses – these can be difficult to clean due to the height of the ceilings, hard-to-reach areas and industrial equipment. They often require specialised cleaning services and may need to be cleaned at night.
Schools & Childcare Centers – with high traffic areas and lots of nooks and crannies for dirt and dust to accumulate, these types of buildings need to be cleaned daily
Nursing Homes – these buildings need to maintain high standards of cleanliness for the health and safety of residents and staff. They usually require daily cleaning, with some areas needing to be cleaned several times per day
Hospitality venues – with kitchens, dining areas and public bathrooms, these venues need to be cleaned daily or several times per day
Cleaning Schedule
The more frequent a commercial cleaning service is required, the more it will cost.
Factors that can influence the frequency of cleans can be things such as:
High foot traffic areas – creating more grime and dust on the floor areas
Elevators – high traffic area that has a lot of "touch" sensitive areas requiring frequent attention
Kitchens – depending on the amount of staff utilising this space, and the type of cutlery/crockery used and required to be cleaned. In some cases daily cleaning here is required
Bathrooms and toilets – depending on the work environment and the number of people utilising these rooms daily, more attention and frequent cleaning may be required. Public bathrooms often require twice-daily cleaning.
Medical centres – will demand a very high level of disinfection and cleaned areas, with very frequent daily cleaning, even multiple times a day.
Regular cleaning during business hours on weekdays will attract a low cost per hour than after hours or on weekends or public holidays. Cleaning companies usually have a lower hourly rate for regular customers they visit on the same day each week. If you are looking to include Covid cleaning as part of the schedule, the cost will once again vary.
Cleaning tasks required
The tasks required will also affect the cost of commercial cleaning. Some common commercial cleaning tasks and services can include:
Disposal of waste bins
Sweeping and mopping of wet areas
Vacuuming carpeted areas and hard surfaces
Cleaning of glass windows, window sills and doors
Cleaning and disinfection of bathrooms, toilets, sinks and vanities
Dusting and cleaning walls
Cleaning equipment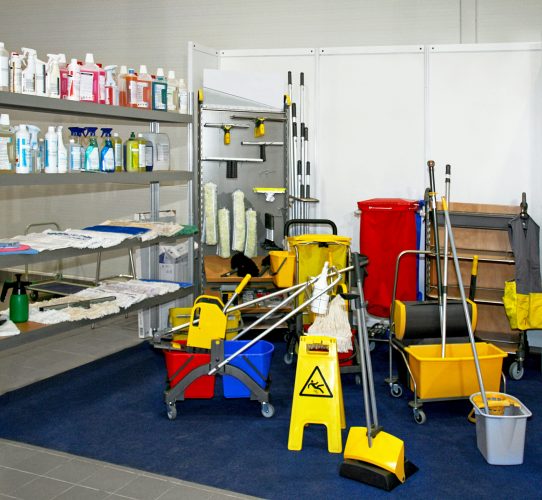 The cleaning company will also factor in the cost of any cleaning supplies and equipment required to complete the job. In most cases, the cleaning company will provide all the necessary equipment and materials. However, there may be an additional charge if you require specialised cleaning products or equipment.
A commercial cleaner will need the following equipment to do their job, if these aren't already available at your premises, the cost will be included as part of the contract:
Buckets
Mops
Vacuum cleaners
Cleaning cloths and rags
Detergents and disinfectants
Sponges
Trolleys
How does the quote process work?
Initial discussion
In order to get an initial estimate, a commercial cleaning company will have a conversation with the client, asking a few questions based around:
The size of the premises. This is used estimate based on how quickly our cleaners can clean an area on a square meter basis.
Frequency of cleaning and type of cleaning required. This also factors in the materials and consumables required.
The number of bathrooms/toilets/wet areas to be cleaned. The more wet areas mean less area covered per hour.
The age of the property, older properties can take longer if they are in poor condition, whereas newer properties are often faster to clean.
The type of property. Certain properties take longer or require a higher cleaning standard than others.
We can usually provide an initial estimate to the client based on this information.
Site Visit
Most cleaning companies will need to come and see the property in order to provide a formal quote. This process can take an hour or two, allowing them to gauge how much cleaning will actually be involved and any complications with the site.
This will include checking:
Bins and where rubbish is collected.
Windows, window sills and doors
The size and condition of bathrooms/toilets/kitchens for cleaning and disinfection
The condition of external areas
Any fixtures, furniture and machinery requiring cleaning
Storage location(s) for cleaning supplies
Bathroom supply requirements (toilet rolls, tissues, hand sanitisers etc)
Access to the premises for workers, their equipment and waste disposal
Any safety hazards
Formal Quote
Following a site visit, the cleaning company will be able to provide you with a formal quote detailing the following:
Overall cost, sometimes broken down into labour, materials and equipment.
Payment periods
Contract length
Cleaning schedule
Company insurances, including workers' compensation insurance and public liability insurance
Conclusion
Hopefully, we've been able to explain some of the main factors that determine the cost of commercial cleaning, some of the additional costs for related activities, and how the quote process works. The main factors that determine the cost of commercial cleaning are the size of the premises, the frequency of cleaning and type of cleaning required, the number of bathrooms/toilets/wet areas to be cleaned, and the age and condition of the property.
If you're trying to get a quick idea of how much it might cost to clean your property, keep in mind that the average cleaner can cover around 500sqm per hour, is charged out at $55 per hour on average and cleans once per week. If your property is particularly small, has above-average cleaning requirements or you need it cleaned more often, the cost will be higher. If your property is larger than average, has fewer bathrooms or you need it cleaned less frequently, the cost could be lower.
Of course, the best way to get an accurate idea of how much it will cost to clean your property is to have a site visit and get a formal quote from a commercial cleaning company.
If you're looking for a commercial cleaning company in Australia, get in touch with us today for a free quote. We service all states and territories, including Sydney and other capital cities.