If you're invested in the overall aesthetic of your commercial office, restaurant or retail space, then flooring is a pretty big deal. Receptions, hallways, restaurant floors and shopping aisles are usually subject to unrelenting foot traffic, trolley movement, spillages and more. Unfortunately, this means they also experience the most wear and deterioration.
It begs the question; do you let dull and damaged floors leave a poor impression on your clients and employees? Or should you do something about it? Floor stripping may be time-consuming and labour-intensive, but it could be the answer you need to save from the expensive costs of complete floor replacement. In this guide, we'll learn more about the floor stripping process so you can decide whether it works for your business.
What is Floor Stripping and Sealing?
Floor stripping is a process that uses chemicals to dissolve the old or worn-out finish so it can be removed from the surface. Floor stripping chemicals have a high pH level, which means they are more alkaline and better at cutting through floor grime and dirt rather than acidic cleaners that are more suited to rust, minerals and calcium. Sealing is the process of applying a new finish to a stripped floor.
While it sounds simple enough, floor stripping and sealing is a specialised technique. Many inexperienced cleaners can also get it wrong. But when done right, it is the perfect accompaniment to any good floor care program.
What Equipment is Needed?
To ensure a proper floor stripping process, cleaners will need a single-disc rotary floor machine, floor pads, a wet vacuum, dust mop, wet mop, mop bucket, scraper, squeegee, floor stripping chemical and a neutraliser.
Although floor stripping chemicals today are safer, anyone using them should ideally wear appropriate personal protective equipment, including gloves, goggles, boots and masks.
Floor Stripping and Sealing Process
Before floor stripping begins, it's essential to give your cleaner uninterrupted access to the workspace, facility or shop. This is because the process can take quite a while, involves strong chemicals and any foot traffic over the area during the process will ruin the results.
Step 1 – Sweeping and Mopping
The area is first swept and mopped up to ensure it is completely clean and free from dust, dirt and debris. If the floor stripping area is large, an experienced cleaner will divide and work in smaller sections to avoid making mistakes that must be redone later.
Step 2 – Water and Chemical Mixture
Then, the floor stripping chemical is mixed with room temperature water and applied over the area using a mop. The product must have enough dwell time on the surface. In other words, it should remain wet on the surface for a certain amount of time to break down the finish as effectively as possible.
Step 3 – Break Down the Finish
Once done, stripping pads are attached to the floor rotary machine to start disintegrating the finish. A scraper may then be used to cut through multiple layers of the finish. The broken-down finish is then removed using a squeegee or wet vacuum.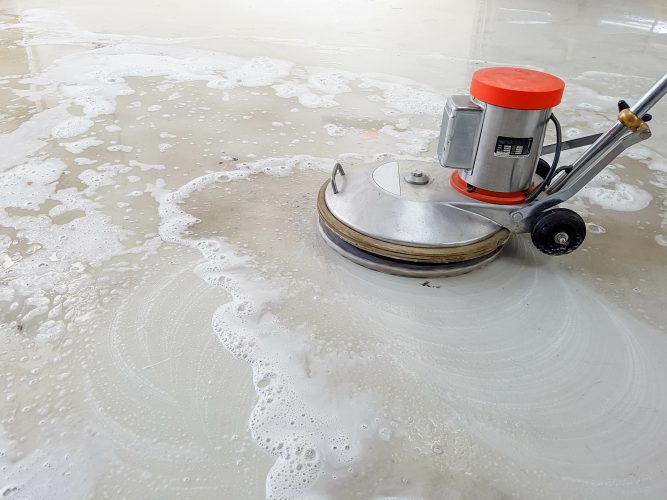 Step 4 – Rinse the Floor
Keep in mind that the remaining residue is alkaline and will need neutralising before re-sealing; otherwise, the new finish will not properly adhere to the floor surface. To do this, the floor is rinsed with clean water and allowed to dry completely.
Step 5 – Application of New Seal
Once the floor has dried, a new seal is applied. To do this, a mop is saturated with the sealant and applied to the floor in sections. The sealant must dry completely before anyone can use the floor again. This could take anywhere from 24 to 48 hours, depending on your property.
Industrial businesses, warehouses, retail outlets and factories will want to consider high-quality sealants that can handle oils, chemicals and other liquids frequently spilling on the floors. A professional cleaner should be able to help you choose the right one for your needs.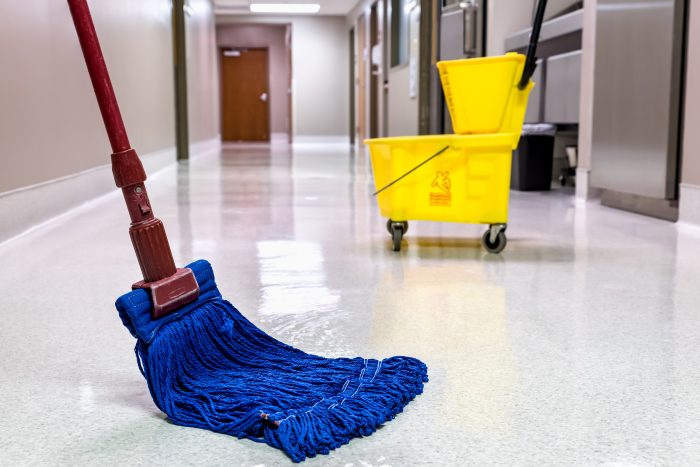 Can Floor Stripping Work on All Materials?
Floor stripping works on most hard floors that have been sealed, including vinyl, some hardwoods, and marble. However, it's important to note that the floor stripping chemical should be appropriate for the floor. These chemicals are corrosive and can cause irreversible damage if the floor cannot tolerate them. As an example, chemicals and equipment used for vinyl tiles will be different from chemicals used for natural stone surfaces like marble.
Anyone undertaking floor stripping should know how to safely use the chemicals and machine, wear protective equipment and ensure adequate ventilation to prevent toxic fumes indoors. For these reasons, only a Sydney office cleaning professional with the right experience, knowledge and equipment should undertake a floor stripping project on a commercial property.
Floor Stripping Vs Floor Buffing
While the process of floor stripping aims to dissolve ageing floor finishes, buffing smoothens floors and brings out their shine without stripping out the finish. Buffing works on all types of floors, including vinyl, wood, laminate, tile and linoleum. There are two buffing options; spray and dry buffing. Spray buffing requires the use of liquid to clean floor dirt before the buffing process creates a glossy finish. Dry buffing helps to smoothen floors and remove dirt without using any liquid.
Benefits of Floor Stripping
Floor stripping can make an old floor look brand new, while buffing may not be able to yield the same result on floors where the damage is excessive. Stripping also addresses more stubborn issues like grime, stains and dirt, while buffing is ideal for minor imperfections.
Disadvantages of Floor Stripping
Floor stripping doesn't work on floors that cannot be sealed. Stripping is also time-consuming and more expensive (but not when compared to complete floor replacement).
In Summary
Ultimately, stripping and sealing a floor can transform your flooring's appearance, so you can retain a professional appearance without the costs of changing your floors entirely.
Floor stripping and sealing is a complex task that can result in damaged floors due to inexperience. Simple mistakes like letting the chemical dry on the floor or the wrong dilution can leave your floors looking worse than before and may need a do-over.
As an experienced commercial cleaner, MSR Services has undertaken hundreds of successful floor stripping projects for our clients across Sydney with a 100% satisfaction rate. You can trust us to get the job done right the first time. Contact us to learn more about the floor stripping process and whether it is right for you.
Are you trying to work out how much to budget for cleaning? See how much commercial cleaning costs.
Thinking of sanitising your office space due to an increase in Covid-19 cases? Find out what's involved in Covid cleaning.